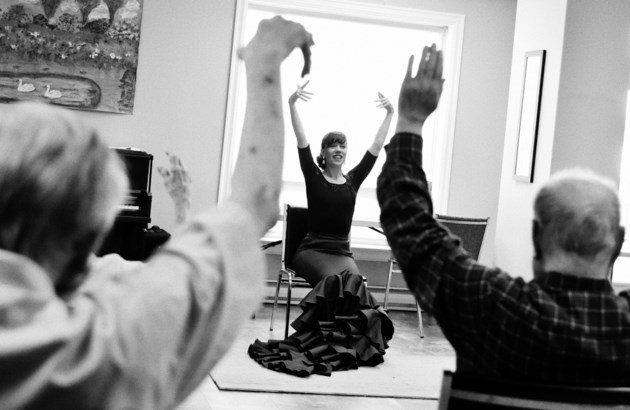 She raises her arms high, snapping her fingers in time to the powerful strum of flamenco guitar.
Her gaze is fixed on her teacher, who twirls her long, ruffled red skirt to reveal chunky high heels, flashing in the afternoon sun as she sets the rhythm and calls out to the class: "Slow, slow, slow, slow. Fastfastfastfastfastfastfastfast."
The student beams and her eyes dance. Her tiny feet echo the beat.
She has danced before, many times, with her late husband, at little places near their home in Merigomish, Pictou County. Foxtrots, mainly, and waltzes, until the moon climbed high above the quiet countryside.
Flamenco is a whole new world. But as Hallie Conway, 99, says, "You're never too old to learn. I love to learn, and this dance is so much fun!"
Conway and her neighbours at the Berkeley residence for seniors in Halifax have been packing the bright, spacious multi-purpose room for the past month, delighting in the strong rhythms and elegant movements of flamenco — thanks to performer and teacher Megan Matheson Hamilton.
Matheson Hamilton's classes, also held at Shannex's Parkland at the Gardens facility on College Street in Halifax, are a pilot program with Halifax Dance, where her company, Compania Azul, is in residence.
"We all felt that flamenco would be wonderful to share with seniors," she says. "The form stresses that there is always room to grow. It's about age as well as youth, and the older you are as a dancer, the more respect you get. In fact, there are dancers who are performing well into their 90s."
Even more than technique, flamenco flourishes on duende, an almost untranslatable Spanish word that hovers between passion and spirit, giving the art form its characteristic feel of fiery authenticity and soulful strength.
The 15 seniors deeply immersed in their class at the Berkeley offer glowing testament to this quality.
Most of them in their 80s, or even, like Conway, approaching 100, they participate from their chairs, but the seated posture doesn't stop them from executing sometimes complex footwork, arm movements, hand-twirling and finger-snapping. And their faces are infused with the pleasure of their intense focus.
Matheson Hamilton's friendly, encouraging instructions help them quickly learn simple choreography in which arms gracefully extend to the opposite hip, while feet tap out the four-eight rhythm, to the accompaniment of the haunting voice of Repompa de Malaga and the punctuation of flamenco guitar.
"Excellent work!" she exclaims at the end, "Very nice!"
Gradually, more gestures are added — clapping, alternating foot and arm movements — and again, these apt students pick up the new material immediately. Conway, elegant in tan pants and blue blazer, taps her sandalled feet briskly as her slender arms extend over her head with a graceful twirl of the fingers.
Her eyes are sparkling as the class shouts "Olé!" at the end.
Matheson Hamilton has a special treat after the class, since it's the last session. She has worn the long flamenco skirt — bata de cola — in celebratory farewell, and she now puts it to good use in a short dance demonstration, improvised to slow, elegiac piano music. Her movements are measured and graceful, and the occasional kick against the ruffled train of her skirt elicits gasps of admiration from the group.
Jerry MacNeil, 94, sitting with friends Sidney Jackson and Doris Baker, both 83, is hoping Matheson Hamilton will return in the fall to give more classes.
"This is truly amazing," MacNeil says. "I didn't know what to expect when we had the first class, and Sidney and I weren't sure flamenco could also be for men, but I can tell you that everyone really liked it a lot. It's enjoyable and it's good exercise, plus it has that little exotic kick with the music too. Really something different."
Jackson concurs. "Doing these moves to the Latin music is great," he says. "The rhythm really gets you going, and I find myself tapping my toes all evening after the class!"
Adds Baker: "It's one of the most enjoyable activities I've been involved in. More, please!"
Matheson Hamilton says she hopes ongoing classes for seniors in the Halifax area can be established.
She regularly teaches children (ages three to 10) at the studio in the Cow Bay home she shares with husband Craig and their son, Morrison, 2, and emphasizes that flamenco has something to offer to "anyone and everyone."
"There are a lot of studies coming out that show the ongoing benefits of dance for the brain," says the Dalhousie University neuroscience graduate, who was drawn to the flame of flamenco —and away from the pursuit of a science career — about 15 years ago.
"And flamenco is so inclusive. It's been a privilege to teach these seniors, who have been so open and interested — such wonderful students.
"It's moving to be able to share something that has been so uplifting to me."
Olé!